1 – Lively, Energetic and probably a multi-tasker
if you love polka dots then this probably means your lively and energetic just like the print! Studies revealed that those people who wear polkadots are multi-taskers!
2 – They aren't called Polka Dots Everywhere
In Germany they're called Thalertupfen.
3 – No ones really sure what its got to do with Pola
The connection between the dance and the patterns is a bit mucky… no ones really sure why its called polka dots. Polka is an original Czech dance and genre of dance music. It originated in the middle of the 19th century in Bohemia which is now part of the Czech Republic. Polka remains a popular folk music genre in a lot of european countries. some people believe that marketers used the thriving dance and music genre as a way of marketing all their hats, vests and shoes! Some say that the word Polka just made it sound more cheerful.
4 – Theres a Batman villain who loves polka dots!
Mister Polka-Dot was a character that appeared in the 1962 comic. Abner Krill aka Mister Polka-Dot loved his Polka dots. He wore a skin tight costume that was covered in colourful polka dots. He also had a getaway car called the Flying Polka Dot. His weapon of choice was.. actually can you guess? yep.. polka dots. The Polka Dots on his costume were connected to a wiring system that deactivated them. When removed from the costume they would activate, enlarge in size and become a number of different devices like buzz-saws dots, flare dots and more.
Just like the Polka Dots he was a fun and unique character.
5. ARTISTS HAVE MADE CAREERS OUT OF POLKA DOTS.
You've got chuck Close who created photorealistic portraits out of pixelated dots. He uses a grid to map each facial detail. Very unique way of creating portraits and has proved to be very successful for him. His style is very unique and lovely.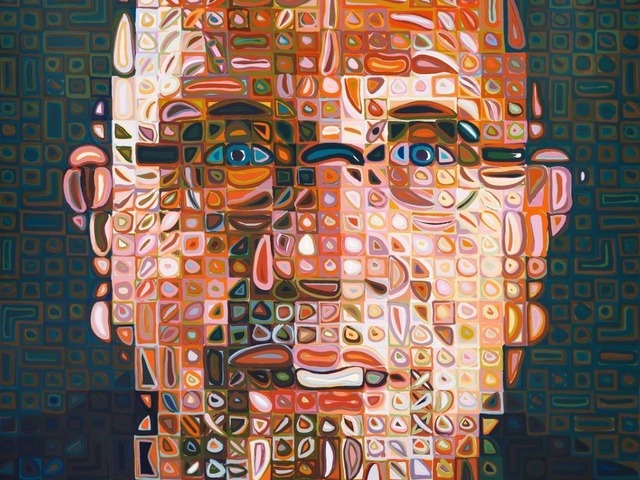 Look how awesome that looks!
You've also got Japanese artist Yayoi Kusama who creates some amazing pieces of artwork. She is polka dot mad and has had an obsession with them since her childhood. The obsession comes from a series of hallucinations she where everything turned into patterns.
I love the sculptures and paintings she does!
6. POLKA DOTS MADE FRANK SINATRA FAMOUS.
Did you know Frank Sinatras first hit was called "Polka Dots and Moonbeams"? It was recorded with Jazz musician Tommy Dorsey in the 40s!