I Love art… and I love polka dots so can you guess who I'm going to ramble on about?
Yayoi Kusama is one of my favourites – shes up there with Guy Laramee, Yulia Brodskaya and Cornelia Konrads for my favourite 21st century fine artists. If you've not heard of any of them then they're well worth checking out too.
Anyways, Yayoi Kusama is a well renowned artist who is most famously known for her polka dot work and her mirror series. She's part of the art movement Pop art which was inspired by Andy Warhol. Her use of vivid colours and how she creates such large sculptures is one of the reasons I was inspired to produce art.
Now anyone that looks at Yayoi Kusama's work won't need to spend too long to realise that she has a dot obsession. Kusama says this obsession started as a child as she often suffered from hallucinations in which all her surroundings were covered in intense repeating patterns.
In the 1950s Kusamas work became abstract; the starting point to her well known trademark, pokadots. She used materials like gouache and oil which she used mostly on paper. Her creativeness began to move her away from painting on paper to covering canvases, floors, walls and even people in intense primary colours and pokadots.
Due to her hallucinations her take on light is also a big part of her work. Her installation "I Who Have Arrived In Heaven" features coloured light and mirros giving the sense of space and time. Her "infinity rooms" lets the audience take a step into a room of possibilities.
Theres something just so interesting about her work that I still struggle to express with words. She just looks so awkward and out of place almost like an old 2d game.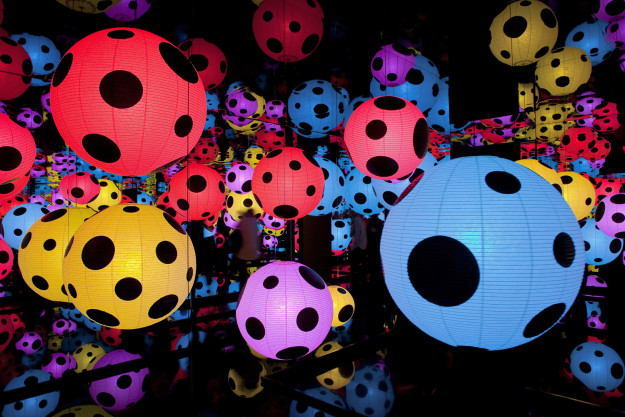 Another one of Kusama's work, she loves her vivid colours. Amazing artist!