Polka dots have been seen on many famous icons for years, such as Minnie Mouse; in her famous red and white polka sot dress. Audrey Hepburn and Marilyn Monroe  the most famous Fashionistas of their time have both also been spotted wearing the polka dot craze.
So lets start:
Dress
I love these types of 1950 beautifully cut polka dot dresses. They're just so bold, fun and cute! You know the ones I'm talking about? these:-
They're just so cute! Right so pulling these off can be a nuisance at time but if you follow these tips you'll find it easier.
1 – Wear a simple plain coloured top – trust me, there is no point digging through your ward drove looking for something else. Your polka dots skirt is already really bold so you just keep it simple up top.
Look how cute they all are. So tops with not too much design and only a bit of colour do the trick. My favourite is the middle one, it looks fun!
Great combinations!  Okay next up – shoes…
The style of your dress is crucial in picking what shoes to wear. Try make sure your shoes are from the same era as the type of dress. Is it a 50s style dress? well high heeled pumps with an ankle strap would do the trick. 80s dress? – kitten granny boot.
What colour do I choose? well picking shoes that are the same colour as the dots on your dress will make a bolder statement than shoes that match the other colours will. You don't need to match the colour of the dress though you could just wear a neutral colour like black or beige.
Heels
They'll make your legs look longer and and its a great way to match your polka dots skirt. Match the colour of your heels to the colour of your top.
Try match stripes
If you can manage it, matching strips with your polka dots will look absolutely great! I actually love it,  
Bags 
I'm not a fan of polka dot bags at all, if you're going to wear a polka dot bag make sure the rest of your outfit doesn't have them. Remember your polka dots should be on no more than 25% of your outfit. Its there to give that extra touch, its a bold thing to wear and too much of it makes it lose that touch you're going for in the first place.
Shoes and Sandals 
I absolutely love wearing polka dot shoes. They can work exceptionally well with your outfit and can give your outfit that little extra touch. Polka dots are fun and they should be applied with fun!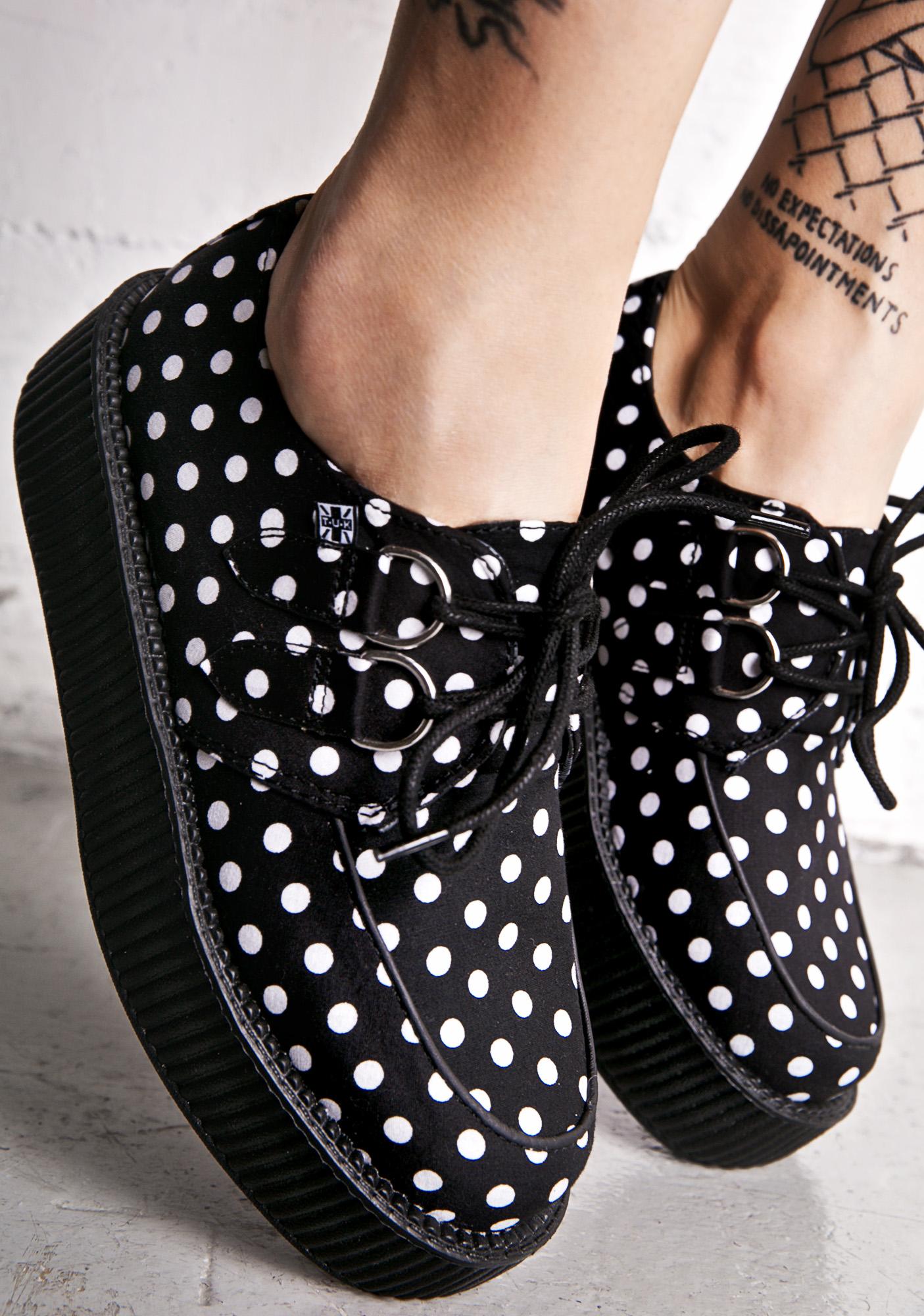 Accessories to consider
Scarfs, tights, jackets, hats and blouses can all be considered. Just remember don't wear a full outfit with just polka dots again you don't want too much! Dotted tights can work great with the right combo. For example the middle picture below, not too many dots but it adds a little something extra. The picture to the far right below has loads of dots in but they're spread apart, the dress has a lot of small dots and looks amazing against the tights where the dots are more spread apart – I love it!
These little polka dots are really pretty so why would you hide them? Choose black to keep it classic or if u want to go really bold try some bold colours to spice things up. So can we all agree now that Polka dots are great, they're a fun playful way to add some extra boldness to your wardrobe!
Are you looking for new clothes to sort your outfit out?  why not check out Miss Selfridge and use this Miss Selfridge Discount Code for some cheaper stuff!